Community and Outreach
Serving the local community around Christ Church is a key part of our mission and we are constantly seeking ways in which to fulfill this.
Open Tuesdays
The church is open for coffee and chat or quiet reflection and prayer every Tuesday in term time, 9am -11am. Anyone is welcome to come in at this time. There is usually a member of the clergy team available if you wish to talk to them specifically.
Community Garden
The church has an enclosed garden area behind it which members of the public are welcome to use at their own risk when it is not in use for church activities. Please be aware that it is in use every weekday morning during termtime.
Sutton South Hello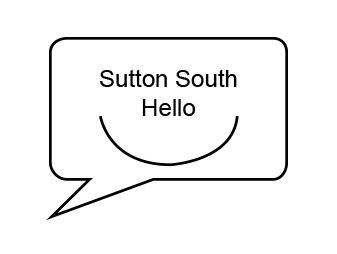 Sutton South Hello is a community group, hosted at Christ Church but built up by local residents, councillors, residents' associations, churches, Neighbourhood Watch and the local police. It was started in response to awareness that Sutton South has a very high proportion of older people, many living alone. The overall aim is to establish a friendly and welcoming place where people can come to meet others living nearby and find out where local activities were taking place and where to go for advice. Click here for more information.
Care and Residential Homes
We are pleased to be able to make visits in and hold short services in a number of residential homes and care homes around the Parish. If you would like to find out more about this then please contact the Team Vicar Revd Phil Brooks.
Bluebirds Parent and Toddler Group
A toddler group run by the church. Anyone (parent, grandparent or other carer) with children aged 4 and under is welcome to attend. A wide range of toys and activities are set up for the children to play with. Drinks and biscuits are provided for children and adults. Everyone comes together to sing some nursery rhymes at the end of the session.
Mondays (term time only) 1:45pm – 3:00pm in the church hall.
For further information contact Denise Haseler on 020 8642 8957.
Children's activity afternoons
The church transforms into a hive of activity around Christmas, Easter and Harvest when we invite children, with their families, to come to our activity afternoons. These are fun-filled sessions with several theme related activities, a short talk and a light tea. For information about the next activity afternoon please click here.
Charities we support
Click here for further information about charities we support as a church.